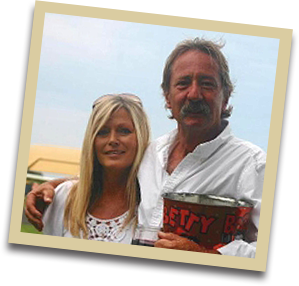 About Bar & Dannie
As ordered, he kept his mouth shut; hands folded, and did not move. But, he watched and used his ears to the fullest. He was in awe of his father and did what he was told by a man who was fresh out of the navy and now flying for the biggest company in the east. Bethlehem Steel had Beech 18s, DC-3s, Gulfstreams, Lockheeds and Corsairs! Bar Eisenhauer was allowed to watch and not talk. So, he dreamed. "Someday …"

In kindergarten at age five, Bar saw a blimp, a piano and a DC-3. So began a fantastic childhood of music and flying. An entertainer from blood. A comic to compensate for everyday stupidity. A country boy from his mother's beautiful dutchieness and, a professional from his dad. Bar knew his destiny over forty-five years ago and some how, he has never stopped pursuing it.

"Just keep it simple and survive. Give me enough to make the masses smile and remember so I can make each day better for them to tell the world. Don't forget the past as it creates the now. Respect where you came from even if you disagree how you got here. It's all an education. USE IT!" As Bar continues. "Now how in God's name am I going to find a soul mate to put up with this insanity? I'm a Gemini, no your not, yes I am, OK then!" Well he did.
---
Check out this amazing video!
---
Danielle (Dannie) Eisenhauer has taken Bar's dream and made it work. So smart and practical, she has been able to balance these two soul mates so perfectly that they wish they had met forty years ago. They strive to accomplish things that will take a hundred years in just twenty. That's their passion, their energy, and their dream.
The Bird Of Paradise is Bar and Dannie, a classic biplane, Satchmoe (their Poopiedog), Louie (the druged-out cat), and a house on wheels filled with love and ready for an air show. This is their life and they will share it all with you in front of a fire, with a glass of wine and one hell of a story. They are here now to share what they know about airplanes, take you for a flight, teach a little history, and have a lot of fun while we are all still living as we are.